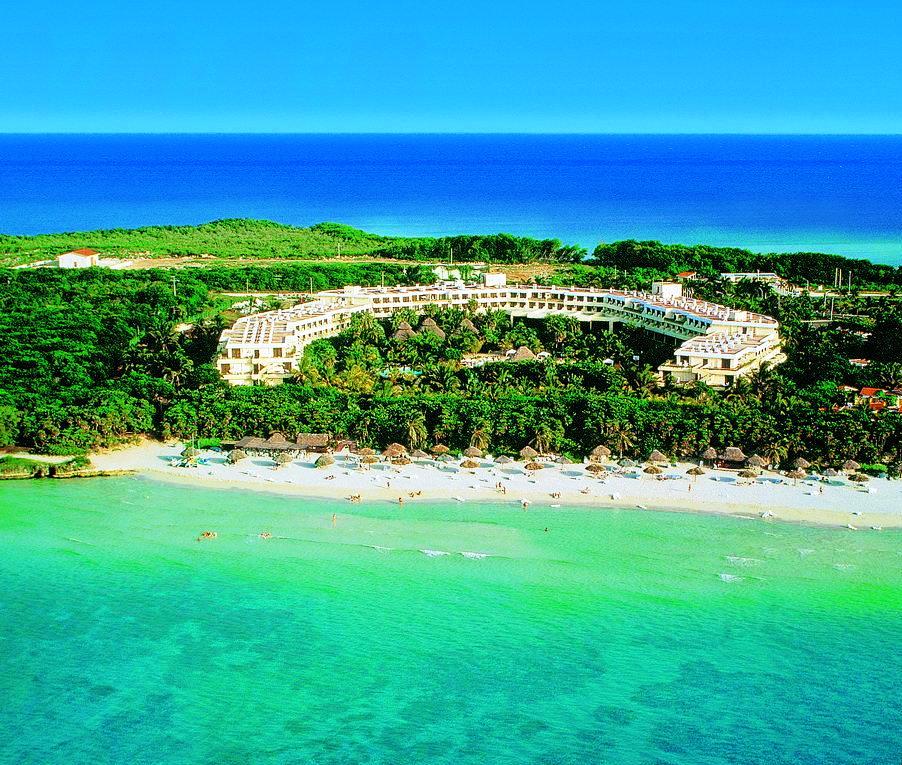 SOL PALMERAS 4* (hva 12)
Location:
One of the most popular 4* hotels in Varadero. It is located in a beautiful territory and offers an excellent animation service and delicious food. It is highly recommendable for families, young people and honey moons.
You can go to the commercial center, which is located virtually in front of the hotel Melia Varadero. Attention: the tension in the sockets is only 110 V!
Hotel:
It is part of the hotel chain MELIA HOTELS INTERNATIONAL
It is part of the complex Las Americas Resort along with the hotels Melia Las Americas 5* and Melia Varadero 5*
Built in 1990 and renovated in 2002.
The hotel consists of a main 4-story building and 200 one-story bungalow that surround the garden.
There are 608 rooms
376 standard room (28 of them with sea view and located in the 4-story main building have terrace with view of the garden, swimming pool or beach)
28 junior suite (They measure approximately 63 м2. Bedroom with door and living room. Max. 3 people. Located in the 3 and 4-story main building with sea view, swimming pool or garden, tea and coffee-making facilities.
4 suite ( 2 individual beds or 1 double bed, bedroom with door, living room with divan-bed, big balcony. They measure approximately 131 м2. Max. 4 people, located in the 3-story main building.
62 standard bungalow (with a fancy decoration and located in the tropical garden of the hotel, bedroom with door, living room, mini-kitchen. They measure approximately 47 м2. Max. 4 people)
95 bungalow luxe room ( ideal for family vacations, bedroom with door, living room. They measure approximately 11 м2. Max. 4 people)
22 bungalow suite romance (double bed, bedroom with wardrobe, living room, shower in the terrace. They measure approximately 56 м2. Max. 2 people.)
21 bungalow suite (familiar, double-deck rooms; in the first lever: living room with divan-bed and mini-bar; in the second level: 2 bedrooms and terrace with garden view. They measure approximately 83 м2. Minimum: 3 people; Max. 4+2 people)
From 64 CUC/night per person when renting a double room.