1 CUC = 1$ (+ % exchange rate)
Eastern Havana beaches (Playas del Este). Havana. Home
Renting houses and apartments on the Eastern beaches of Havana is the most convenient and inexpensive way of accommodation.
The beaches located in Playas del Este (20 kilometers from Havana) are magnificent white-sand beaches. Two of them are especially popular among tourists and locals: Santa Maria del Mar and Guanabo.
Santa Maria del Mar is, undoubtedly, the most beautiful beach. It's a broad area of white, clean sand, without any stones or corals. In this 8-kilometer beach you can enjoy a special vacation swimming into the blue waters and resting under the tall palm trees.
Guanabo beach is located in the resort town of Guanabo, 27 kilometers away from Havana.
Several beaches located around town share the name of Guanabo and they all are very popular among the locals.
There are many shops, restaurants, bars and night clubs in Guanabo, and you can always find a wonderful, relaxing atmosphere, as well as friendly people.
Tourists have the opportunity to rent a house on the beach and enjoy their vacation in this heavenly place.
The houses, apartments and mini-hotels in Guanabo that appear in our website where chosen after a comprehensive analysis of the houses' conditions in order to ensure the guests' comfort and satisfaction during their stay on the island. We offer top-quality accommodation!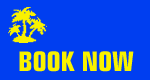 When renting an apartment, please, specify the code that corresponds to the apartment or room of your preference. (Example: Gua15). Select 3 or 4 options and list them in order of preference.