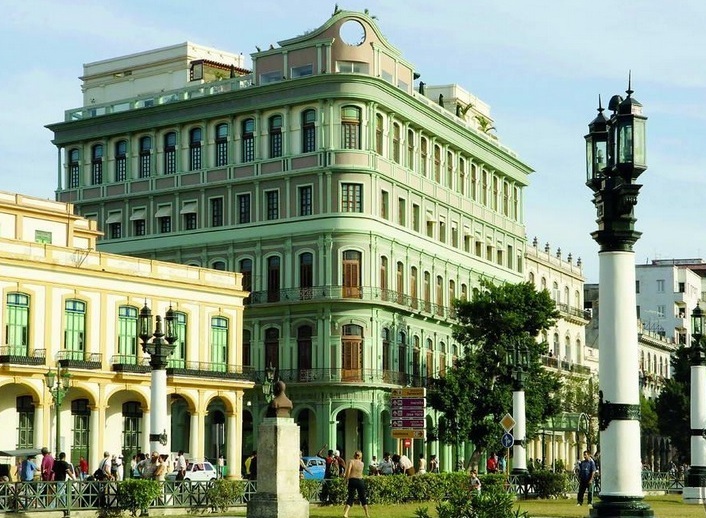 SARATOGA 5* (hh4)
Location:
This magnificent hotel built in neoclassic style stands out in the tumultuous Prado promenade and Dragones street. The hotel is located in front of Fraternity Park (Parque de la Fraternidad, very close to the Cuban Capitol, "Partagas" Cigar Factory and the Great Theater of Havana. From the upper floors of the hotel the guests will enjoy of the best views.
This modern hotel was rebuilt where once was located the legendary Saratoga, and opened its doors as a 5* facility in November 2005. The hotel stands out for its refined central atrium, great windows, wide porch and splendid terrace with a 270-grades panoramic view. Hotel interiors are decorated with traditional and modern materials such as: wood, marble and casting. The Saratoga hotel is ideal for those tourists that are anxious to know the cultural and historical attractions and night life of Havana with a service of excellency.
Hotel:
It is part of the hotel chain HABAGUANEX & EMPRESA CORAL CAPITAL
Opened in 2005
The hotel consists of one 13-story building
In the hotel there are 96 rooms
40 deluxe patio (They measure approximately 36 м2. Max. 2 people, view of the interior yard, 7 rooms with French bed, 9 rooms with twin beds, the rest of them with king sized bed)
49 Saratoga junior suite (They measure approximately 40 м2. Max. 2+1 people.13 rooms with colonial- style balcony
3 triple room suite Prado (They measure approximately 75 м2. Living room, bedroom without door, 2 balconies, view of the Prado promenade
2 double room suite Capitolio (They measure approximately 60 м2. Living room, bedroom with door, balcony, view of the Capitol. Max. 3 people)
2 double room suite Habana (hall with panoramic view of the Capitol, bedroom with door, living room, and balcony. They measure approximately 100 м2. Max. 3 people)
Additional offer for junior suites and suites: express check-in/ check-out, early check-in/ late check-out (subject to availability), butler, express laundry service.
There are 2 rooms for physically disabled guests, 2 Saratoga junior suite (connecting room).
From 95 CUC/night per person when renting a double room