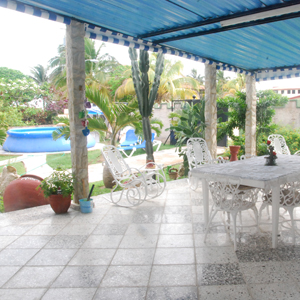 Mini-hotel «Ely» (3 rooms) (Var10)
This is a spacious, colonial-style house, recently renovated. The original design has been preserved. There is a large terrace with tropical plants and an inflatable swimming pool. The house is located in an excellent area, just a few meters away from the sea. It has a garage. It also has 3 bedrooms; one of them has a kitchen.
The bedrooms also have air-conditioning, cold and hot water, fridge.
Price:
70 CUC/night per bedroom with kitchen.
60 CUC/night per bedroom without kitchen.
Additional services: breakfast: 5 CUC per person. Laundry service.