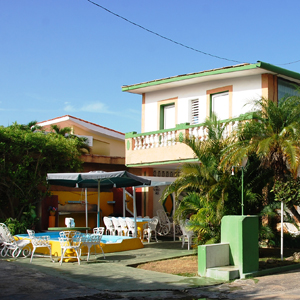 Mini-hotel «Don Pepe» (8 rooms) (Var24)
This mini-hotel is located in a house that dates back to the 50s, near the beach. It has several terraces, balconies and a garage. The mini-hotel comprises 2 independent apartments and one extra bedroom with independent entrance. The largest apartment has 5 bedrooms and 5 bathrooms, and the smallest one has 2 bedrooms that share one bathroom. Amenities: air-conditioning, cold and hot water, fridge and domestic staff.
Triple accommodation is possible.
Price:
225 CUC/ per night for the 5-bedroom apartment
90 CUC/ per night for the 2-bedroom apartment
45 CUC/ per night for the extra bedroom
Additional services: breakfast: 5 CUC per person. Laundry service.