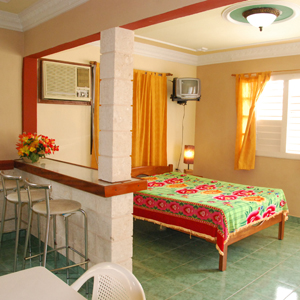 Independent apartment «Griselle 1» (2 rooms) (Var08)
Independent apartment with spacious and well-lit bedrooms. New furniture, terrace, bathroom shared between both bedrooms, and domestic staff. Each bedroom has air-conditioning, cold and hot water, fridge.
Price:
80 CUC/ per night for 2 rooms
60 CUC/ per night for 1 room
Family Tourism only!!
Additional services: Breakfast: 5 CUC per person. Laundry service. Internet